Menu
About Menu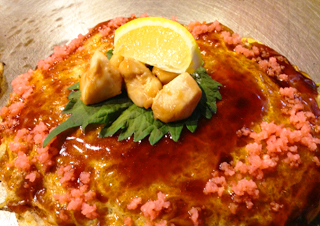 Ma-hoboro-yaki Pancake
With lemon, chicken teriyaki, shrimp oboro, perilla leaf, and potato
Hoboro Special Mixed Juice
This is homemade mixed juice made with a variety of fruit.
The juice has a nostalgic and gentle taste, and is accented with colored marshmallows that resemble Ms. Hoboro's hair clips.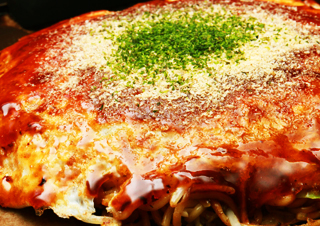 Junmai Ginjo Takehara-yaki
Okonomiyaki with sake lees, gently grilled for a gentle aroma

The "Takehara-yaki," with sake lees from sake producer Takehara's Junmai Ginjo kneaded into the dough.
Two layers of dough grilled on both sides, filled with various ingredients, and finished with an egg on top.
We mix in the matured sake lees after turning them into a paste, giving the dough a springy texture.
There is a light fragrance of the sweet aroma of sake as you carry it to your mouth.


※You can change a regular menu to the Takehara-yaki for 200 yen.
Regular Menu
■Seafood Special
(Meat, scallop, squid, shrimp, octopus, and egg)
Single
Double
Okonomi-soba (Hiroshima-style)
1,300 yen
1,500 yen
Okonomi-udon (Hiroshima-style)
1,300 yen
1,500 yen
Yaki-soba
1,200 yen
1,400 yen
Yaki-udon
1,200 yen
1,400 yen
Grilled Vegetables
(Hiroshima-style/without noodles)
1,200 yen
1,400 yen
Mixed Vegetables
(Kansai-style/without noodles)
1,300 yen
1,500 yen
■Seafood
(Scallop, squid, shrimp, octopus, and egg)
Single
Double
Okonomi-soba (Hiroshima-style)
1,200 yen
1,400 yen
Okonomi-udon (Hiroshima-style)
1,200 yen
1,400 yen
Yaki-soba
1,100 yen
1,300 yen
Yaki-udon
1,100 yen
1,300 yen
Grilled Vegetables
(Hiroshima-style/without noodles)
1,100 yen
1,300 yen
Mixed Vegetables
(Kansai-style/without noodles)
1,200 yen
1,400 yen
■Special
(Meat, squid, shrimp, and egg)
Single
Double
Okonomi-soba (Hiroshima-style)
1,100 yen
1,300 yen
Okonomi-udon (Hiroshima-style)
1,100 yen
1,300 yen
Yaki-soba
1,050 yen
1,250 yen
Yaki-udon
1,050 yen
1,250 yen
Grilled Vegetables
(Hiroshima-style/without noodles)
1,050 yen
1,250 yen
Mixed Vegetables
(Kansai-style/without noodles)
1,100 yen
1,300 yen
■With meat, squid, and egg
Single
Double
Okonomi-soba (Hiroshima-style)
950 yen
1,150 yen
Okonomi-udon (Hiroshima-style)
950 yen
1,150 yen
Yaki-soba
900 yen
1,100 yen
Yaki-udon
900 yen
1,100 yen
Grilled Vegetables
(Hiroshima-style/without noodles)
900 yen
1,100 yen
Mixed Vegetables
(Kansai-style/without noodles)
950 yen
1,150 yen
■With meat, fried squid, and egg
Single
Double
Okonomi-soba (Hiroshima-style)
950 yen
1,150 yen
Okonomi-udon (Hiroshima-style)
950 yen
1,150 yen
Yaki-soba
900 yen
1,100 yen
Yaki-udon
900 yen
1,100 yen
Grilled Vegetables
(Hiroshima-style/without noodles)
900 yen
1,100 yen
Mixed Vegetables
(Kansai-style/without noodles)
950 yen
1,150 yen
■With squid and egg
Single
Double
Okonomi-soba (Hiroshima-style)
900 yen
1,100 yen
Okonomi-udon (Hiroshima-style)
900 yen
1,100 yen
Yaki-soba
850 yen
1,050 yen
Yaki-udon
850 yen
1,050 yen
Grilled Vegetables
(Hiroshima-style/without noodles)
850 yen
1,050 yen
Mixed Vegetables
(Kansai-style/without noodles)
900 yen
1,100 yen
■With shrimp and egg
Single
Double
Okonomi-soba (Hiroshima-style)
900 yen
1,100 yen
Okonomi-udon (Hiroshima-style)
900 yen
1,100 yen
Yaki-soba
850 yen
1,050 yen
Yaki-udon
850 yen
1,050 yen
Grilled Vegetables
(Hiroshima-style/without noodles)
850 yen
1,050 yen
Mixed Vegetables
(Kansai-style/without noodles)
900 yen
1,100 yen
■With meat and egg
Single
Double
Okonomi-soba (Hiroshima-style)
800 yen
1,000 yen
Okonomi-udon (Hiroshima-style)
800 yen
1,000 yen
Yaki-soba
750 yen
950 yen
Yaki-udon
750 yen
950 yen
Grilled Vegetables
(Hiroshima-style/without noodles)
750 yen
950 yen
Mixed Vegetables
(Kansai-style/without noodles)
800 yen
1,000 yen
■With cheese, rice cake, and egg
Single
Double
Okonomi-soba (Hiroshima-style)
1,100 yen
1,300 yen
Okonomi-udon (Hiroshima-style)
1,100 yen
1,300 yen
Yaki-soba
1,050 yen
1,250 yen
Yaki-udon
1,050 yen
1,250 yen
Grilled Vegetables
(Hiroshima-style/without noodles)
1,050 yen
1,250 yen
Mixed Vegetables
(Kansai-style/without noodles)
1,100 yen
1,300 yen
■With scallop, cheese, and egg
Single
Double
Okonomi-soba (Hiroshima-style)
1,100 yen
1,300 yen
Okonomi-udon (Hiroshima-style)
1,100 yen
1,300 yen
Yaki-soba
1,050 yen
1,250 yen
Yaki-udon
1,050 yen
1,250 yen
Grilled Vegetables
(Hiroshima-style/without noodles)
1,050 yen
1,250 yen
Mixed Vegetables
(Kansai-style/without noodles)
1,100 yen
1,300 yen